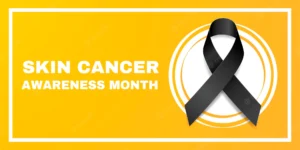 One of our patients sent us a letter to tell their melanoma story.  This is a story of how Dr. Weir saved their life.
My melanoma story starts with my Dad
My melanoma story starts with my Dad.  He had a history of melanoma, so I have been seeing a dermatologist every two years since my early twenties.  My doctor retired around 2017 and when I went to make an appointment in 2019, I was told it would be 6 months to get an appointment.  My wife has a good friend who recommended Dr. Gina Weir to us.  When she called to make my appointment, it was about two weeks out.  My first appointment with Dr. Weir was January 8th, 2020.
My First Visit
When Dr. Weir came into the examination room she asked me if I was related to Brad Creal?  Brad is my nephew and he and Dr. Weir went through St. Johns grade school and Pius X High School together.  I was immediately put at ease with her and the clinician who was helping with exams that day.  Dr. Weir did a very thorough exam, including my head.  I was 60 years old at the time and to this day I am blessed with a full head of hair!  Dr. Weir found a spot on the very top of my scalp that she felt needed to be biopsied.  She performed the biopsy and told me she would call with the results.
Positive for Melanoma!
Within a few days Dr. Weir's office called me and put Dr. Weir on the phone.  She very calmly informed me that the biopsy had come back positive for Melanoma!  She went on to explain the course of treatment she was recommending.  She referred me to the Cancer Center at UNMC and briefly explained the two-stage surgery treatment I would go through.  We followed her advice and followed up with the Cancer Center.
I am not sure how I was assigned the surgeon who performed my treatment (Dr. Elizabeth Bradford Bell), but it was meant to be.  Dr. Bradford Bell had graduated from the University of Oklahoma with her bachelor's degree in 2008, the same year my eldest son graduated from OU!
Treatment at UNMC
The course of treatment was just as Dr. Weir had explained to me.  First UNMC verified the positive melanoma in their own lab.  I was then scheduled for initial surgery on February 6, 2020, to remove the melanoma spot and a certain amount of skin around the spot referred to as the "margin."  The surgeon would also biopsy two lymph nodes from the left side of my head to be tested for melanoma.  I found the method to identify the lymph nodes to be biopsied very interesting and educational.  I will not go into detail, but it did involve a visit to the Nuclear Medicine lab!  I was scheduled for a second surgery on February 12th to either close the wound or take more samples.  After the surgery I was sent home with an open wound on my head to await the lab results.
Dr. Bradford Bell called me on February 11 to inform me that all the samples (margin and lymph nodes) had come back negative for melanoma!  WOW.  I was cancer free!  I have to say that I am a Catholic and my favorite Saint is St. Bernadette Soubirous, the visionary of the Lourdes France apparitions of Mary the mother of Jesus.  I even have a daughter named after St. Bernadette (Marie Bernadette).  February 11th happens to be the feast of Our Lady of Lourdes!
Dr. Weir Saved My Life!
I can say with confidence that Dr. Weir saved my life.  All three of the Doctors at UNMC who visited me prior to my surgery on February 6th (Dr. Bradford Bell, the supervising Anesthesiologist, and the Nuclear Physician) asked how Dr. Weir found the melanoma.  My response is "she was thorough" and I thank God for her, her education, and her work ethic!.
A Happy Ending to My Melanoma Story
After the surgery I would see Dr. Weir every three months for follow ups, in the past I was uncomfortable with doctors doing full body checks, not anymore!  Dr. Weir and her staff are professional and respectful of me as their patient.  It has now been two years since my surgery, we have gone to 6-month checkups, but if I have any spots that concern me or my wife I am encouraged to call in as soon as possible.
One other thing I have appreciated about Dr. Weir is she was the one to give me the sad news of a positive melanoma test.  When there was good news to give me she allowed her nurse or employee to be the bearer of the news.
I cannot thank Dr. Gina Weir and her staff enough for the care they have given to me and now my whole family!
Bob Creal,
A Grateful Patient.